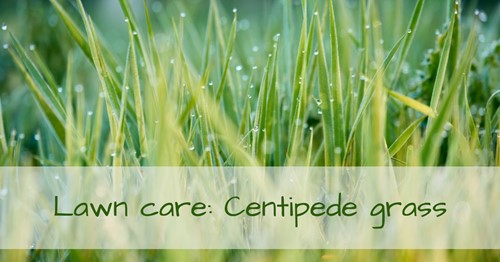 Centipede grass is possibly one of the easiest grasses to plant, maintain and fix if necessary. It's particularly grown in southeast regions, but can be grown anywhere that temperatures are warm. However, it can have its nuances.
Keep it hydrated
Centipede grass may be a warm-season grass, capable of sustaining higher temperatures. However, this type of grass has short roots that require at least a weekly watering of about one inch in total. However, be careful not to over hydrate it, as this can drown the roots and potentially cause severe damage to your lawn.
Typically, centipede grass lawns should be watered earlier in the morning (before 10 a.m.).
Keep it fed
Centipede grass maintenance involves keeping it fed and creating an environment that it will thrive in. While you may not need to fertilize this warm-season grass as much as a grass needing to have a high tolerance against the cold, you still want to make sure it's getting the nutrients it needs.
Depending on your location, your centipede lawn may need a fertilizer with a little more acid, since this type of grass enjoys a soil with a little more zing to it. Try keeping the soil pH between 6.0 and 7.0 to ensure optimal growth.
Weed control
Weeds often creep into lawns with sparse patches where grass is missing or thin. This allows the weeds to spread and get stronger, eventually infiltrating your centipede grass lawn. You may opt to use herbicide specifically designed for weeds, that will not damage your grass. However, the most prevalent protection against weeds is to keep your grass dense and healthy.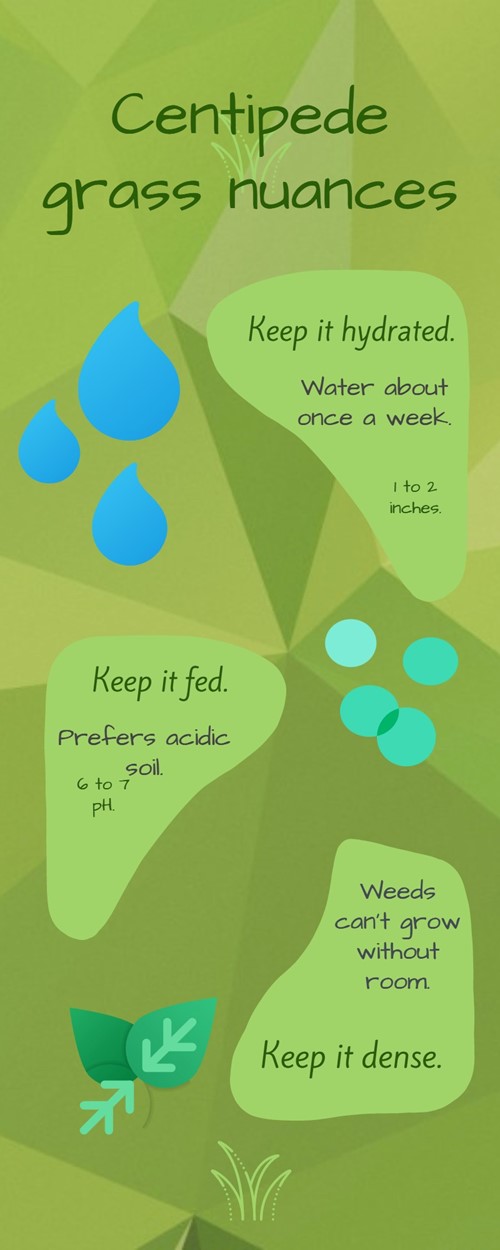 Maintaining a centipede grass lawn isn't as difficult as some other varieties of grasses available. Just be sure to keep it fed and properly hydrated with minimal foot traffic, and your centipede grass lawn will thrive season after season.